Floods are one of the most common natural disasters besides wildfire and drought. In most cases, flooding follows a hurricane, swollen rivers, excess rains, or thawing snow. Floods can be harmful to your health, home, or business premises.
If you live in a flood-prone area, it will help to put some measures to safeguard your loved ones and property. Read on to learn about our suggestions on flood preparation.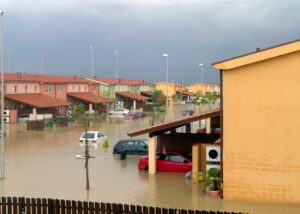 The History of Floods in New York
New York City has had many very catastrophic floods. To mention a few, in august 2021, flash floods killed more than forty people, many of them being in the basement. The floods resulted from remnants of Hurricane Ida that had struck the city earlier, leaving hundreds of people homeless. The hurricane let loose torrential rains, which scooped up vehicles, grounded flights, and submerged New York City's subway lines.
The residents of Pennsylvania, New York, New Jersey, and Connecticut experienced the destruction of roofs, power outages, and flooded basements. The roads were full of river-like torrents with just a few minutes of downpours.
In June 2006, a frontal boundary came across central New York and Florida. It developed a powerful low-level jet that moved tropical moisture resulting in a 3-day rain. The heavy rains resulted in floods causing numerous mudslides. Two Interstate 88 bridges were also swept away near Sidney, NY.
The storm killed four people in New York, damaging thousands of properties.
In January 1996, a rapid meltdown of snowpack and about 2-4 inches of rain caused a significant flood. There was considerable evacuation and severe damage to infrastructure, which exceeded $100 million. The floods also claimed at least four lives in New York.
Tips to prepare for Floods
Prepare in Advance
Ensure that you are Red Cross Read, that is to say;
Have an emergency preparedness kit ready
Create your household evacuation plan
Stay up-to-date on your community's risk and response plan
Ensure that your family members know how to contact you should you go separate ways during an emergency
How to Prepare Before a Flood
Protecting Your Home
First, know if you are in a flood risk area. If yes, consider getting flood insurance. Ensure that the insurance cover you buy provides coverage for floods.
If you live in a floodplain, elevate your home to reduce the level of damage when floods occur.
Get an expert to help you:
Elevate your water heater, electrical panel, and furnace to levels that floods are less likely to reach
Check valves in plumbing to prevent the floodwater from flowing back into your home drains. When floods threaten, you may use large corks to seal tubs or plug showers as your last recourse
If your city building codes permit, construct barriers like flood walls to prevent floodwater from flowing into your home
Close up the basement walls with waterproofing compounds to avoid water leaks through cracks
When you expect to flood, use sandbags to create a barricade. Two people may take an hour put 100 bags of sand, building a one-foot high wall
Ensure that there are enough sand, time, and energetic people to help
When floods are likely to occur, some communities give out free sandbags. Be on the watch out for such opportunities
Protecting Your Pets
Have an emergency kit for your pets ready. Ensure you protect any outhouse, corral, or pasture just as you protect your house. When you construct fence lines, install them to allow your pets to move to higher ground with ease in case of flooding.
Right before flooding, you can;
Make full plastic bottles with clean drinking water
Fill up the bathtubs and sinks with water. You may use the water later for washing the floor or flushing.
Fill up the gas tank of your car, just in case you will need to evacuate your home.
Switch off propane tanks to minimize the risk of fire.
If time still allows;
You may move your valuable items and furniture to a higher ground
If the authorities ask, turn off utilities to prevent damage to your home appliances.
During a Flood
Keep your ears to the radio or TV for weather updates or emergency protocols.
If there is a possibility of flash floods, move immediately to higher ground. Do not wait for instructions.
Stick to any emergency instructions given by the authorities.
If you must evacuate your home, do the following:
If asked to evacuate, do so as soon as you can. Besides, evacuation is safer before the floods hit as it may become hard for ordinary cars to drive through.
Switch off all electric circuits from the main switch, gas at the meter, and water at the main valve.
Ensure you follow the recommended evacuation routes. You may find obstructions on shortcuts.
If you come across a flooded area when evacuating, turn around and go the other way.
Do not drive through flooded regions as your car may be swept away. If your car stalls, get out immediately and move to safer, higher ground.
If possible, do not move through flowing water. Use a stick to confirm whether the ground is firm if you must.
Stay out of apartments surrounded by floods.
After the Flood
Listen out or search for the latest official statements from government authorities.
Do not go back home unless it is safe, and advised so by the authorities
Even if you get the go-ahead to return home, inspect your home before entering. Check for visible cracks or broken parts.
Avoid driving your car through areas that are still flooded
Use a stick to move light items as you check for dangerous insects and wild animals
Check your home's electric circuits, water sources, and gas for damages before turning them back on.
Do not step on standing water with bare feet as it may have an electric charge from downed power lines.
Do thorough cleaning and disinfect everything that comes into contact with the floodwater. Wear protective clothing, for example, rubber gloves when cleaning, and exercise caution.
Alert the relevant authorities of damaged public amenities
If you can help the disabled and your neighbors wherever you can.
Take pictures of the extent of the damages caused by the floods for insurance compensation purposes.
Have a well-stocked emergency survival kit at work, car, and at home for more preparedness.
The Road to Recovery
A flood is an inevitable natural disaster, but we can reduce its impact on our lives. Once floods come and go, the flood water eventually clears. It is now flood restoration time; you have to recover assets and build your home.
Taking fast measures to rebuild your property can help reduce further damages caused by mold or rust. You may as well save some of your household items.
At New York Total Damage Restoration (NYTDR), we bring the magic to your home. We deal in home improvement to ensure that your home gets the high-end renovation it deserves.
As a homeowner, one thing you should do before the flood is, ensure that you have valid flood insurance. Note that the standard homeowner's insurance does not cover floods.
Let us help you get your lovely home back!