If you have just been victim of a flood or had a pipe burst in your home or office, you may have been told that Water Mitigation is the first thing you need to do. According to the Environmental Protection Agency, 13.7% of all water used in the home today can be attributed to plumbing leaks, so while water disasters tend to come by surprise, they are actually far from uncommon. Still being that leaks and floods are not planned, you may not be wondering what Water Mitigation is and why it's so important.
What is Water Mitigation?
Water Mitigation is the process of alleviating or minimizing the level of damage or impact caused by water buildup resulting from a leak, flood, storm or burst pipe. It is easy now to understand why this is the first step to take. The more successful the water mitigation is the less water damage restoration will be needed.
Water causes damage when it is left to sit. The risk of damage increases exponentially with the length of time the water sits in the damaged area. In addition to seeping into carpet or wood causing flooring damage, warping wood furniture and ruining objects lying around, water can seep into the foundation, travers up walls and create long term health hazards from mold and microbial growth which often shows up much after the damage and cleanup.
Getting rid of the water as fast as possible can literally mean the difference between full irreversible damage and a smaller unpleasant experience. Often people will try to save by removing the water themselves only to discover later that water had seeped into places they missed or not dried out properly and a whole new slew of mold, mildew and additional related water damage issues require full gut removal and restoration. Therefore, calling a professional water damage restoration company is imperative.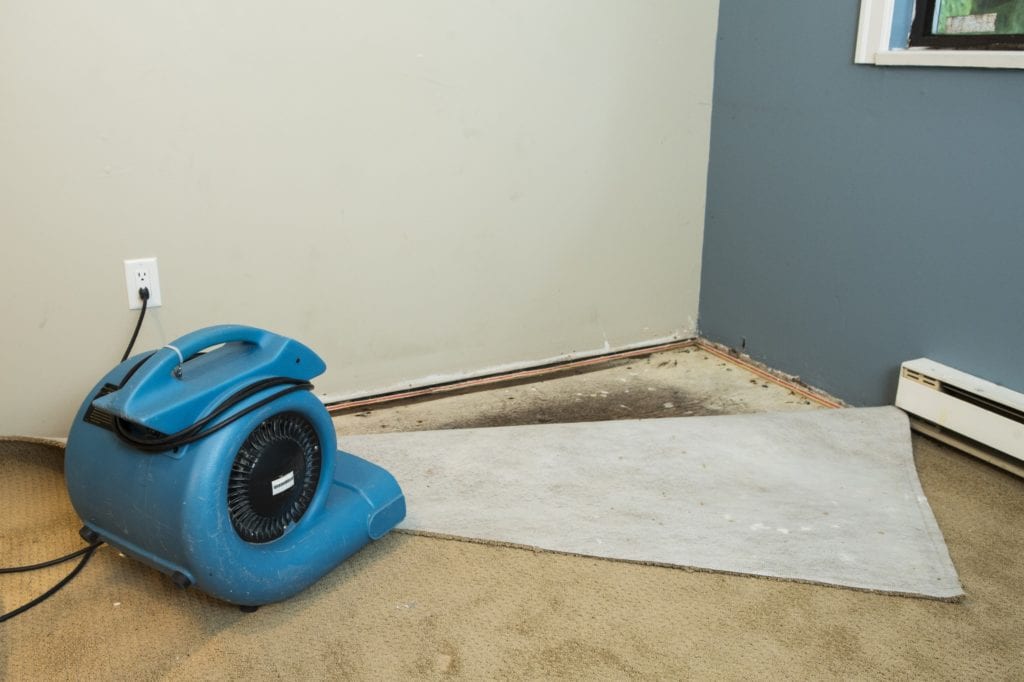 What happens when the professional arrives?
As mentioned above, the first priority will be to remove any objects, furniture, appliances or machinery that can be saved. At the same time, the process of water removal using specialized machinery and water sensing equipment will begin. Once the water mitigation is complete, the restoration experts will be able to asses the damage and restoration requirements as well as assist with submitting insurance claims, providing information to the insurance adjustor, scheduling additional drying, applying mold prevention techniques, and completing restoration.
Some companies offer just the emergency water removal, some will provide the whole restoration process, and some will actually provide a complete service from water mitigation and removal through restoration and remodel including insurance claims assistance.
At NYTDR, we take great pride at being a full-service NYC Water Damage Restoration Company. Our expertise goes beyond the actual emergency cleanup and restoration. We work with the client to submit insurance claim, getting clients much larger coverage than they would on their own. We understand all the intricacies of both restoration and renovation including the invisible damage and required work and can therefore work alongside the insurance adjustor and get full coverage from home insurance companies often turning the water disaster into a blessing in disguise!